On piano, Craftsman is playing grand role
By Mary Blakinger, Inquirer Correspondent, The Philadelphia Inquirer, July 25, 1994
WAYNE -- As a young piano student, Michael Sweeney would get into trouble for sticking his hands inside the instrument to explore its strings and hammers instead of keeping them on the keys. It is a habit he never outgrew.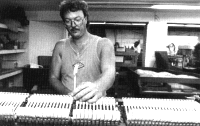 Sweeney, 40, of Drexel Hill, still is poking around in pianos, tinkering on a grand scale. He does it for a living, having found a harmonious niche repairing, rebuilding and refinishing grands and baby grands made before World War II.
"From 1890 to 1943, that was the heyday of piano manufacturing. From my perspective, they were built the best and made to last. Those pianos have tone and touch [unequaled by] any made today," said Sweeney, adding that today's Steinways are the exception.
His workshop in Wayne is strewn with grand pianos in various states of disassembly. A keyboard sits on a shelf like a giant set of teeth extracted from some great musical beast. Pianos, legs detached, are stacked sideways along a nearby wall.
And on the shop floor stand wooden piano cases, innards removed, in preparation for refinishing. One case belongs to a Sohmer piano made in the United States about 1902. Covered with dust, it rests on supports because some of its hand-carved mahogany legs have been set aside for refinishing.
"This happens to be a famous instrument," said Sweeney, circling the Sohmer. "This is one I fell in love with...It sounded wonderful, very full and rich. If they sound good, when they are [restored], they are all that much better."
The Sohmer came from a home on the Main Line. Sweeney said he had bought the piano for about $1000 and planned to sell it for $10,000 when it had been refurbished inside and out.
The Wayne shop, with five employees, usually has about a dozen instruments undergoing work and another dozen in the wings, waiting for ordered parts. The shop restores about 200 instruments a year.
Business is divided between restoring customers' instruments and buying, refurbishing and reselling pianos. Repair and restoration of an instrument six feet or smaller costs about $3500. Refinishing costs from $2,500 to $3,000, depending on the size of the piano.
Craftsmen install new strings, restore keys, refurbish the cast-iron plate that holds the strings, and repair the soundboard. They also regulate the piano's action, synchronizing the movement of every key so that each performs consistently.
Sweeney's introduction to the piano came at age 5, when he began taking piano lessons. He studied classical music until age 12, when he switched to playing piano in a band. It was a pursuit with dividends for an adolescent that classical study did not seem to provide.
"You get in a rock-and-roll band, and all the girls like you," he observed. Sweeney was accomplished enough at the keyboard to support himself playing in clubs in his early 20s.
But all the while he was still sticking his hands in the works, exploring how the collection of 4,000 parts in the action of a piano transforms motion from its keys into sound.
"You have about 25 different movements when you push a key down," he said.
Sweeney worked with others in the business, learning how to tune and rebuild instruments.
"Everybody has a different approach. I learned from a dozen different piano builders and technicians," he said. He also took a piano technology course at Temple University and a job with a firm that sold and restored pianos, working his way up the ranks of management.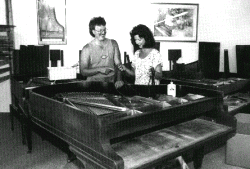 In 1987 Sweeney segued into solo work restoring pianos. His wife, Lisa, is now a partner in the business, managing office operations while he supervises the workshop.
With three full-time employees and two part-timers, the business remains small. Michael and Lisa Sweeney want to keep it that way. He said he had no desire to launch franchises, transform the shop into a factory or become a piano tycoon.
If anything, Michael Sweeney would like to continue narrowing his focus to an even more elite group of grand pianos bearing the names of a handful of famed makers such as Steinway, Mason & Hamlin, Sohmer and Chickering & Sons.