A man in tune with the past
In Wayne, Michael Sweeney restores and sells older American Pianos.
By Claire Furia Smith for The Philadelphia Inquirer, April 1, 2002
While modern factories in Asia manufacture hundreds of grand pianos a day, Michael Sweeney is one of a few local piano craftsmen on a mission to save the old American piano.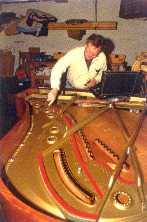 Michael Sweeney works with a baby grand piano's harp.


Some of the American pianos he restores date to the 1890s. In Wayne, he restores pianos brought to him by their owners, and buys and restores other pianos for resale. (Photo by William F. Steinmetz / Inquirer Staff Photographer)
His business, Michael Sweeney Piano Craftsman Inc. in Wayne, rebuilds, refinishes and sells grands and baby grands manufactured from the late 1800s to World War II, an era that was considered the instrument's golden age.
Sweeney, 48, and his wife and business partner, Lisa, have a staff of five who strive to apply the same human touch to their work as did the hundreds of now-forgotten piano-makers who operated in the United States in the 1890s and early 1900s.
"We're like the American buffalo," said John J. Riley, who restores older American pianos in Chinatown. "We're a dying breed."
"In the 19th century, the piano was like the home entertainment system," said Danne Polk, a former Villanova philosophy professor who researched piano history when he designed Sweeney's Web site.
Only a few manufacturers, including Steinway and Baldwin, were able to survive two world wars, the Great Depression, and the advent of television and recorded music, he said.
Today, nostalgia and a desire for Steinway-like quality without the cost of a new instrument generate business for piano restorers. Some musicians say the older piano's tone has more "heart and soul," Sweeney said.
Jody O'Rourke said she brought her 1926 Steinway baby grand to Sweeney for a complete restoration because it had been damaged by age and smoke. She said the instrument had sentimental value because her father had played it as a boy.
"It sounds like a new piano," she said. "It's beautiful."
Kathryn Barone, director of the Bryn Mawr Conservatory of Music, said many of the school's students were using pianos that their families had bought from Sweeney or had restored by him.
"He's a fine craftsman," Barone said.
On any given day, Sweeney's workshop is filled with the cacophonous sounds of air compressors, sanders, tuning pins being installed in new pin blocks, and large ventilation fans.
Piano cabinets and sounding boards are stripped and refinished. Keys and strings are replaced. Cast-iron plates from inside the pianos are removed and regilded. The plates are a piano's main structural part because they must withstand 20 tons of tension when its strings are adjusted to concert pitch.
On a recent morning in Sweeney's workshop, a dozen pianos, including a 1906 African mahogany Steinway and a 1920 burled walnut Sohmer baby grand, were undergoing restoration.
A Victorian fluted leg and an intricately carved Louis XVI leg were being duplicated. Some pianos, with legs detached, were lined up sideways to save space while awaiting parts or labor.
But one can escape all the commotion in an adjacent showroom, which has soundproofed walls and is maintained at 42 percent relative humidity, deemed ideal for piano acoustics.
There, piano shoppers can inspect the craftsmanship and test the sounds of a handful of finished pianos. The smallest range in price from $4,000 to $6,000, while the largest Steinways go for $20,000 to #30,000, Sweeney said.
If nothing in the showroom quite matches a shopper's taste, Sweeney said he can draw on about 100 unrestored pianos in a warehouse in King of Prussia.
About one-third of the 100 pianos that Sweeney restored in the last year were brought to him by owners who paid $6,500 to $16,000 for a complete restoration. He bought the rest to restore and sell.
Besides small restoration specialists such as Riley, Sweeney said he competed with national retailers such as Steinway and Wilmington Piano Co. for sales and restoration jobs.
He said business had doubled over the last five years, even though he restores fewer pianos than he used to. Sweeney said that's because he has been able to focus exclusively on restoring grands and baby grands, work which he said is more lucrative and more enjoyable than working on uprights and consoles.
As a child growing up in housing projects in Southwest Philadelphia and later in Delaware County, Sweeney was taught to play the piano by Catholic school nuns. By the age of 18, he was playing the piano in a band that performed at Jersey Shore clubs such as the Fairview in Wildwood.
At 20, he opened his first piano tuning and reconditioning shop in a friend's four-car garage in Essington. From 1978 to 1985, he worked for Cunningham Piano in Germantown, while continuing to tune his own customer's pianos on the side.
He left Cunningham in 1985 to start his own business, which he initially ran from his home in Drexel Hill.
"I ended up with 20 pianos in the living room, dining room, and in the back driveway under tarps," said Sweeney, who moved his business to Ardmore, and then opened his Wayne shop in 1992.
Today, Sweeney said he was doing what he always knew he wanted to do.
"I don't care for imports," Sweeney said. "I like good old American pianos."
Copyrighted © 2002 by The Philadelphia Inquirer.