Making Music on the Main Line
By Judith Pransky, Main Line Times, May 5, 1994, 13
The Oldest piano in existence was made in Italy in 1720 by Bartolommeo Christofori. He called his invention a "piano e forte," Italian for soft and loud.
During the following two centuries, the instrument was developed and improved. It was played by Mozart and Beethoven, and by countless lesser musicians who now had a means of bringing music into their own homes.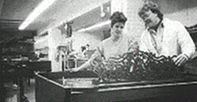 Piano Craftsman Michael Sweeney of Wayne reports there were thousands of piano manufacturers in the United States by the end of the 19th century. An upright piano was patented in 1800 by Issac Hawkins for his son John Isaac, of Philadelphia.
Most manufacturers were immigrants who had learned their craft in Europe. "Half went out of business during the depression and many during World War II," according to Sweeney.
But from the late 1800s until the 1940s, "there were really no inferior pianos made." And many of those magnificent instruments are continually being refurbished and enjoyed by Main Line families.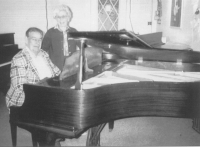 Carl Beck of Bala Cynwyd and Maryland plays piano "for my own amazement." He learned to play in his youth, and he and his wife, Florence Beck, bought a 1920s Aldrich Baby Grand in California at the end of World War II. But even loved and pampered antique pianos fall into disrepair.
Sweeney explains, "When you push a key down, you have 25 different movements happening all at the same time." Strings, damper felts and tuning pins wear out. Sound boards and pin blocks are damaged. Keys need replacing. So the Becks' piano is now in Sweeney's shop, being restored to its original grandeur.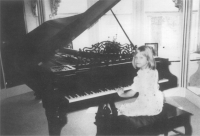 William and Sharon Harvey's piano, on the other hand, is in constant use in their home. "We wanted a piano that would fit the character of the house," Sharon Harvey explains, referring to their historic Wayne residence. They ere awestruck by the loveliness of the 1880s Chickering concert Grand Piano that they now own. Sweeney purchased it from an estate in Haverford, and the Harveys acquired it from him.
Never pianos "leave you cold," Sharon Harvey says. "They're all boxes and cookie cutters..."
Often there is better sound quality in older pianos, Sweeney claims. "They have warm, deep, rich tones." Older pianos are significantly heavier, too, and they were all hand made. There was attention to detail, visible in the ornate music desks topping stunning cabinets.
Unlike many other antiques, a restored piano costs significantly less than a comparable new one. A typical restoration job takes about two months, while more complicated jobs can take longer.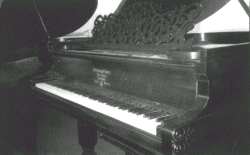 One very old instrument graces the home of two doctors in Merion. It is an 1870 Steinway, encased in a rosewood cabinet and standing on cabriolet legs. An almost identical piano is included in an exhibit at the Metropolitan Museum of Art, and another at the Smithsonian. "Steinways are in a class by themselves," Sweeney says.
Purchased 40 years ago in Connecticut from a family of concert pianists, the Merion Steinway is the one on which the woman of the house learned to play as a child. "I think that a musical instrument is different from other possessions," her husband maintains. "So many things to into making music: Childhood memories, people gathering around the piano on special occasions."
But even the Steinways can disintegrate, and the Steinway Company didn't think this particular piano was worth restoring. Sweeney couldn't resist it, however. He bought it from the family and tinkered with it for 18 months. When the family saw and heard the results, they promptly bought it back from them.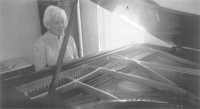 An equally cherished piano is the one Mrs. Freeman Jones of Radnor received as a weeding present from her parents. It is a Chickering Baby Grand, purchased in 1940, and used by Jones to play chamber music with friends who are a mix of amateur and professional musicians. It also was used by the Jones children for piano lessons, and when it recently began to show its age, there was no question about having it restored.
Neither did Ingrid Engstrom hesitate to refurbish her family's piano. It is an elegant 1917 Mason and Hamlin that her family brought with them from Holland in the 1950s. Ingrid Engstrom's stepmother, a piano teacher, taught her to play on that piano as a child. Her stepmother perished in a fire that destroyed her St. David's home. Michael Sweeney was able to repair the smoke and water damage to the piano that Ingrid wanted as a keepsake.
"I didn't play for forty-something-years," says Ingrid Engstrom, who now resides in Florida. "But the piano is special enough to me that I'm relearning to play."
Even in cases less heart-rending, "people's relationships with their pianos are more emotional than historic," Sweeney believes. He always feels bad removing a piano from a home.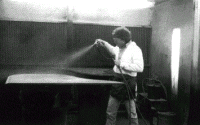 Growing up, Michael Sweeney studied piano in grade school with the Immaculate Heart sisters, but "didn't enjoy playing that much. I always got in trouble for sticking my hands inside and taking things apart."
He knew what he wanted to do right out of high school, and after apprenticing to various piano craftsmen, opened a shop in his home in 1986. He moved to Ardmore in '88 and has been in Wayne for the past two years.
He, his wife, Lisa, and their workers enjoy being around antique pianos as much as their customers do. Every restored piano is cause for celebration. It is delivered to the customer's home accompanied by a can of polish and a bottle of champagne.