Michael Sweeney brings art of piano crafting to Wayne
From The Suburban, December 7, 1992, Vol. 107, No. 24
The address is clear enough -- 378 West Lancaster Avenue -- but actually finding Wayne's first and only piano craftsman is a bit more challenging.
Just west of the town's center, tucked away on the lower level of the building which also houses O'Neill Auto Body, Michael Sweeney's shop offers the visitor an appealing look at a vanishing art: the meticulous, time-intensive restoration of this country's most popular instrument.
In an arrangement reminiscent of a jigsaw puzzle, pianos of every conceivable size, shape, and style fill the large, well-lighted combination shop and showroom. The atmosphere is one of quiet industry, as skilled technicians concentrate on their work, accompanied by the sounds of century-old player-piano music in the background. It's a pleasant place to be.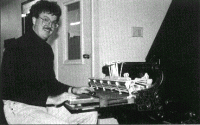 Michael Sweeney wouldn't have it any other way. In a business sadly known more for its "truckload" clearance events and desperate commissioned salesmen struggling to make quotas, he has built a career on a different philosophy, one that stresses personal attention to both instrument and customer.
"I've worked in the other environment," he recalled recently, "and I knew then there was a better way." As senior vice-president of a well-known Philadelphia piano store, a younger Michael Sweeney learned the pitfalls of a retail, high volume assembly-line approach to the business.
"Customers can feel overwhelmed by a salesman's need to 'close the deal.' They get confused and frustrated by the pressure, often making a decision they later regret. I simply won't do business that way."
In fact, Michael Sweeney has no sales force. Relying on his "visits-by-appointment-only" policy, he takes the time necessary, on a one-on-one basis, to explain the details involved in buying, selling, restoring, or refinishing pianos. It's a policy that he admits has its limitations.
"I know there's no way to continue to expand the business and still maintain my focus on the individual customer. So, even though it's the goal of most American companies to grow, I've made the basic decision to stay small, efficient, and personal."
His wife, Lisa, makes that possible. As a full partner in the business, she spends twelve to fourteen hours a day speaking with customers, scheduling appointments, and managing the administrative functions so critical to the operation. As Michael see it, "I'd be lost without her."
This fall begins Michael Sweeney's third decade around pianos and his sixth year in his own business. Having recently moved his shop from Ardmore, he now feels he's right where he belongs -- in the center of the Main Line.
"People in this area appreciate pianos. They know how much a fine instrument can add to a home, both in its beauty and the music it creates."
Nodding toward his impressive inventory, he concluded, "I try to offer the best value in everything I sell...[every piano] gets the same careful attention in my shop, and every instrument, regardless of its size or price, carries my unconditional guarantee."